Website Design & Development Process
The basic phases in the website design and development process are outlined here. It starts with information gathering, the creation of your website, and then maintenance to keep your website up-to-date with new material. The basic steps are:
Plan
Design
Develop
Deployment
Support & Maintenance
Click on the button below to view all the steps, or click on each image to view or hide a step.
Planning a Website Design
We offer a free consultation to discuss your objectives for your website. In the information gathering phase, together we:

Define the purpose of your website, e.g. sell a product or service, provide information, etc.;
Define your intended target audience;
Define the required information for your website, tailored for your target audience;
Analyze your competitors' websites;
Determine how your website will support your business strategy;
Discuss the pros and cons of customized or open-source Content Management System (CMS);
Determine if there are business processes that can be incorporated into the functionality of your website, e.g. business-to-business ordering; and
Discuss your budget for development and ongoing maintenance.


Once we have agreement to go ahead with your website, we proceed with planning your website:

We start by creating a sitemap to define the navigation of your website: its pages and sub-pages. The user interface to your website should be designed to create an easily navigated website, so your target audience can easily find information about your services and/or products;
We decide whether you require either a custom CMS to manage your website content yourself, or if you prefer us to provide your website maintenance;
We determine if any custom Application Program Interfaces (API) are required, e.g. a Forum, shopping cart, etc.;
All websites are designed to be responsive, conforming to any device window size; and
We create a Design Brief detailing the website design, projected cost and schedule, including a contract.
Designing a Website
Based on the Design Brief created in the planning phase, we proceed with designing your website:

We carefully determine the colours required for branding of your organization, either based on existing brand colours or derived from a completely new concept.
The colours, font and font sizes are selected to comply with Web Content Accessibility Guidelines (WCAG) so that your website is accessible to all audiences, including those with disabilities.
We either incorporate your existing logo or design a logo for your website (we also design business cards to complement your website logo).
We create a prototype website design for you to review and approve.
Developing a Website
The development phase is where we build your website. As the project development proceeds, you will be able to review each web page online on a secure area of our server. Depending on your requirements, during development we:

Develop well-written succinct content for your target your audience;
Develop content and meta data for Search Engine Optimization (SEO) to ensure your website will be found by users' search criteria;
Incorporate photos, videos and any other required media;
Design and develop any required databases;
Integrate any 3rd party software, e.g. forums, shopping carts;
Integrate our own eCommerce shopping cart interface;
Build a customized Content Management System (CMS);
Add social media links to your social media pages, e.g. Facebook, YouTube, Twitter;
Integrate a social media sharing plug-in so your users can advertise your website via their social media or email;
Build members-only portals;
Build customized functionality into your website;
Validate the code in accordance with the current web development standards;
Incorporate reCAPTCHA plug-in on your Contact page to prevent spam bots from sending unwanted emails;
Incorporate Google analytics so you can track the performance of your web pages; and
Thoroughly test and verify links and functionality of your website in the most recent browser versions.
Deployment
The deployment phase is where we launch your website, after receiving your final approval. During deployment we:

Port your website onto your domain so that it is visible to the public;
Modify analytics and reCAPTCHA code to reference your domain;
Establish domain email addresses and forwarders;
Generate a robots file listing the pages to be searched by search engines (and pages to be excluded from search e.g. Content Management System (CMS) pages);
Generate a sitemap and submit it to search engines so they will begin to "crawl" and index your website;
Thoroughly test and verify links and functionality of your production website; and
Fix any required content, links and functionality.
Support & Maintenance
We are here to provide continued support after your website is launched.

Once you have an audience for your website, it's important to keep the content fresh to keep people coming back; to convert your viewers to customers (or followers). This can include adding new photos and videos, testimonials, news, etc. If your website does not include a Content Management System (CMS), we are happy to update your website on an as-needed basis.

We provide CMS training for the customized CMS implemented on your website.

We assist you with your domain name registrations, obtaining any required Secure Socket Layer (SSL) certificate and web hosting.

Your Google Analytics should be monitored to determine the most popular web pages; versions and brands of web browsers and devices used by your website visitors; geographic locations of the users. The detailed logs quantify the success of your website. Based on your analytics, your web page content and/or Meta data may require updating to improve your search engine ranking. We provide Search Engine Optimization (SEO) by:

Reviewing your analytics;
Analyzing your competition's meta data;
Implementing changes to content and meta data and testing the iterations;
Re-submitting your sitemap to the search engines periodically; and
Determining if new website capabilities are required to promote your products and/ or services.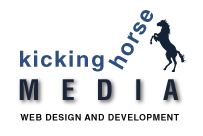 Thanks for visiting Kicking Horse Media Web Design & Development Inc. Website.
http://kickinghorsemedia.ca
Call us at 613-257-5145 for a free consultation.
Scan the QR code below to link to the website