Featured Website - Centaur Breeding Farm
---
The RETIRED Centaur Breeding Farm website was created for a breeder of first class sport horses for sale in the North American market. The client required a website that she could update herself with photos and videos of the horses for sale as well as her breeding stallion. She required a search capability for her extensive database of horses, including their lineage information. These functionalities were provided with a customized database and Content Management System (CMS).
The CMS permits displaying or hiding horses from the published web pages. The Horses for Sale page is designed to display only the birth years for which there are horse for sale, i.e. a year link is not displayed unless there is at least one horse for sale in that birth year. Similarly, the Foals page only displays horses born in the current year for sale.
The pedigree on each horse's page has links to details about the horse's ancestors. As the visitor explores the pages of the horse's ancestry, a link to the given horse for sale is maintained at the top of each page so that the potential buyer may easily return to the sale horse's page.
The client has the capability to post news, sold horses and services.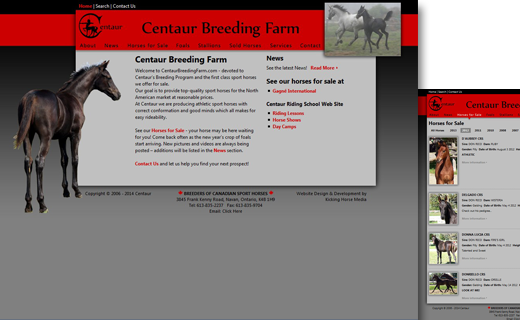 See the RETIRED Centaur Breeding Farm.