Featured Website - StoneRing Books
---
StoneRing Books was created to sell an eBook, 'Unravelling Rowling', written by the late Keith Detloff, an analysis of the Harry Potter series.
A 3rd party forum is integrated into the website. If customers buy the eBook, they can participate in the forum via the members-only portal.
We integrated our custom secure shopping cart interface which has the following features:
capability to create many product categories and associated products;
capability to specify many formats for digital products (e.g. eBooks are downloadable in mobi, epub and pdf formats);
capability to track and modify orders (e.g. add shipping date, comments);
provides a membership-only portal (i.e. for customers who buy the eBook);
roles-based access to the orders (e.g. ability to provide accountant access);
capability to assign roles to those who access the database;
capability to add/remove people from accessing the database;
capability to modify taxes and shipping fees (for non-digital products);
incorporates Canada Revenue rules for charging taxes, based on the buyer's address; and
integrates a secured payment system which is both the payment gateway and the merchant account.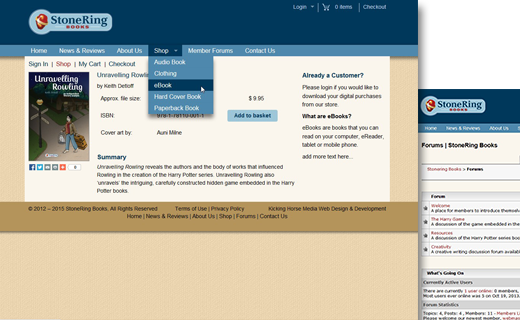 StoneRing Books Website has Been Retired:
Back to Featured Websites.